National Conference
Hilda Solis is coming to #CPNC12!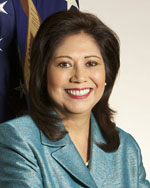 We are excited to announce that the Honorable Hilda L. Solis will be speaking at #CPNC12! Solis is the first Latina to serve in the U.S. Cabinet and you definitely don't want to miss the opportunity to meet her.
In case you missed our announcement, Senator Dick Durbin will also be attending along with Leader Nancy Pelosi!